---
Andy Nonaka
---
Contact Information

Andy Nonaka
MS 50A-1148
Lawrence Berkeley National Lab
1 Cyclotron Rd.
Berkeley, CA 94720

(Berkeley Office) 510-486-7107
(Berkeley Fax) 510-486-6900
---
Overview

I am a Research Scientist in the Center for Computational Sciences and Engineering at the Lawrence Berkeley National Laboratory. My research focuses on efficient, scalable algorithms for complex multiphysics applications described by time-dependent partial differential equations of interest to the U.S. Department of Energy.
---
Current Projects

Small-scale hydrogen flame.

Low Mach Number Combustion using Spectral Deferred Corrections

Due to the wide range of time scales associated with the advection, diffusion, and reaction sub-processes in many reacting flows of interest, the errors from traditional operator splitting approaches can be detrimental to the solution from both a stability and accuracy standpoint. In collaboration with Michael Minion of Stanford University, we are developing a spectral deferred correction strategy for our low Mach number reacting flow solvers (LMC and MAESTRO). Spectral deferred methods can provide more accurate results than Strang splitting using fewer computational resources, and can be generalized to arbitrary order. Our current results are described in this Combustion Theory and Modelling article.

Fluctuating Hydrodynamics of Diffusively Mixing Fluids

At a molecular scale, fluids are not deterministic; thermal fluctuations give rise to behavior that is difficult to solve numerically. In collaboration with Aleksandar Donev of the Courant Institute, we are developing a low Mach number fluctuating hydrodynamics code to study the physics of diffusively mixing fluids at molecular scales. We will apply our techniques to model recent experimental measurements of giant fluctuations in diffusively mixing fluids in a micro-gravity environment.

Diffusive mixing with thermal fluctuations in a zero-gravity environment.
---
Recent Accomplishments
Convection patterns in a white dwarf preceding a Type Ia supernova.

MAESTRO: Low Mach Number Astrophysical Solver

Many astrophysical phenomena are highly subsonic, requiring specialized numerical algorithms to compute efficient solutions. In collaboration with Michael Zingale of Stony Brook University and Chris Malone of UC Santa Cruz, we have developed a new low Mach number hydrodynamics algorithm for astrophysical flows, MAESTRO, suited for such calculations. We derive a low Mach number equation set which eliminates the effect of sound waves and enables long time integration required to simulate the problem of interest. Our numerical implementation of MAESTRO is described in this paper. We have recently published results detailing our simulations of convection in a white dwarf preceding a Type Ia supernova using both the single-degenerate and sub-Chandrasekhar progenitor models, as well as convection preceding ignition in Type I X-ray bursts on neutron stars and core convection in massive stars . For more information, visit the MAESTRO web page.

Transition from Low Mach to Compressible Framework

We are exploring the the dynamics of a Type Ia supernova past ignition using the compressible hydrodynamics code, CASTRO. Since MAESTRO and CASTRO use the BoxLib software infrastructure, the datasets are compatible. Thus, we can use the ignition conditions computed using MAESTRO as initial data for a CASTRO simulation. We are also interested in understanding the implications of mapping data from a low Mach number code into a general compressible framework. Our most current results can be found here.

Type Ia supernovae explosion computed with CASTRO.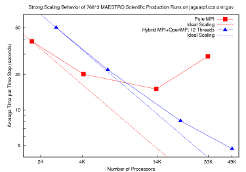 Strong scaling behavior of MAESTRO on Jaguar at OLCF.

Hybrid Parallelization

In order to take advantage of the next-generation, massively parallel many-core architectures, we have adopted a hierarchical approach to parallelization in our BoxLib software framework. In our implementation, we distribute large blocks of data to nodes, which communicate with each other using MPI. We use OpenMP directives to spawn a thread on each core within the node. Using this approach, our linear solvers scale to 100,000 cores and our hydrodynamics solvers scale to over 200,000 cores. For more information, see a recent talk from the 2011 SIAM CSE meeting.

Customized Advection Schemes

In collaboration with Sandra May of the Courant Institute, we have developed customized advection schemes for our incompressible and low Mach number hydrodynamics solvers. In our methods, we integrate limited multidimensional profiles along characteristics, which ensures that we satisfy a maximum principle while showing reduced error as compared to other unsplit methods. For more information, see our submitted two-dimensional biquadratic and three-dimensional trilinear papers.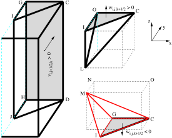 Customized advection schemes rely on detailed characteristic analysis.
---
Selected Talks

6/20/2013: "Using Math and Computing to Model Supernovae". This talk discusses results from end-to-end Type Ia supernovae simulations using both MAESTRO and CASTRO. Presented at the 2013 Computing Sciences Summer Student Lecture Series at LBNL. [pdf]

10/18/2011: "A Deferred Correction Strategy for Advection-Diffusion-Reaction Systems with Complex Chemistry". This talk gives an overview of a new iterative coupling strategy for multiphysics applications with widely varying timescales. Presented at the DOE Applied Mathematics Program Meeting in Washington, D.C. [pdf]

7/26/2011: "How to Thread a Hydro Code with OpenMP". A 2-hour short course introducing the basics of OpenMP, including downloadable tutorials available at NERSC. Presented at the UC High-Performance AstroComputing Center Summer School on Computational Explosive Astrophysics at UC Berkeley / LBNL. [pdf]

5/8/2011: "Petascale Simulations of Type Ia Supernovae". This talk gives an overview of the importance of Type Ia supernovae and the role of MAESTRO in understanding the physics of such events, and also includes the latest scientific results. Presented at the Bay Area Scientific Computing Day at Stanford University. [pdf]

3/4/2011: "MAESTRO and CASTRO: Petascale AMR Codes for Astrophysical Applications". This talk includes a discussion of the parallel implementation of MAESTRO and CASTRO. Presented at the SIAM Conference on Computational Science and Engineering in Reno, NV. [pdf]

1/19/2011: "Numerical Simulations of Type Ia Supernovae". This talk includes a discussion of the development of MAESTRO, particularly the treatment of time-dependent stratification in an AMR framework. Presented at Lawrence Berkeley National Laboratory. [pdf]
---
Publications

M. Cai, A. Nonaka, B. E. Griffith, J. B. Bell, and A. Donev, "Robust Preconditioners for Variable-Coefficient Stokes Flow Problems", submitted for publication.

A. Donev, A. Nonaka, Y. Sun, T. Fai, A. Garcia and J. Bell, "Low Mach Number Fluctuating Hydrodynamics of Diffusively Mixing Fluids" Comm. App. Math. and Comp. Sci, to appear, 2014. [pdf]

C. M. Malone, A. Nonaka, S. E. Woosley, A. S. Almgren, J. B. Bell, S. Dong, and M. Zingale, "The Deflagration Stage of Chandrasekhar Mass Models for Type Ia Supernovae: I. Early Evolution", Astrophysical Journal, 782, 11, 2014. [iop].

C. Gilet, A.S. Almgren, J.B. Bell, A. Nonaka, S.E. Woosley and M. Zingale, "Low-Mach Number Modeling of Core Convection in Massive Stars", Astrophysical Journal, 773, 137, 2013. [pdf]

M. Zingale, A. Nonaka, A. S. Almgren, J. B. Bell, C. Malone, and R. Orvedahl, "Low Mach Number Modeling of Convection in Helium Shells on Sub-Chandrasekhar White Dwarfs. I. Methodology", Astrophysical Journal, 764, 97, 2013. [pdf]

A. Nonaka, J. B. Bell, M. S. Day, C. Gilet, A. S. Almgren, and M. L. Minion, "A Deferred Correction Coupling Strategy for Low Mach Number Flow with Complex Chemistry", Combustion Theory and Modelling, vol. 16, no. 6, pp. 1053-1088, 2012. [pdf]

R. Sisneros, C. Malone, A. Nonaka, and S. Woosley, "Investigation of Turbulence in the Early Stages of a High Resolution Supernova Simulation", Proceedings of the Supercomputing 2012 Conference, Salt Lake City, UT, November 2012. [pdf]

A. Nonaka, A. J. Aspden, M. Zingale, A. S. Almgren, J. B. Bell, and S. E. Woosley, "High-Resolution Simulations of Convection Preceding Ignition in Type Ia Supernovae Using Adaptive Mesh Refinement", Astrophysical Journal, 745, 73, 2012. [pdf]

M. Zingale, A. Nonaka, A. S. Almgren, J. B. Bell, C. M. Malone, and S. E. Woosley, "The Convective Phase Preceding Type Ia Supernovae", Astrophysical Journal, 740, 8, 2011. [pdf]

A. Nonaka, S. May, A. S. Almgren, and J. B. Bell, "A Three-Dimensional, Unsplit Godunov Method for Scalar Conservation Laws", SIAM J. Sci. Comput., vol. 33, no. 4, 2011. [pdf]

A. Nonaka, A. S. Almgren, J. B. Bell, H. Ma, S. E. Woosley, and M. Zingale, "From Convection to Explosion: End-to-End Simulation of Type Ia Supernovae," Proceedings of SciDAC 2011, Denver, CO, July 2011. [pdf]

S. May, A. Nonaka, A. S. Almgren, and J. B. Bell, "An Unsplit, Higher-Order Godunov Method Using Quadratic Reconstruction for Advection in Two Dimensions", Comm. App. Math. and Comp. Sci., vol. 6, no. 1, 2011. [pdf]

C. M. Malone, A. Nonaka, A. S. Almgren, J. B. Bell, and M. Zingale, "Multidimensional Modeling of Type I X-ray Bursts. I. Two-Dimensional Convection Prior to the Outburst of a pure 4He Accretor", Astrophysical Journal, 728, 118, 2011. [pdf]

A. Almgren, J. Bell, D. Kasen, M. Lijewski, A. Nonaka, P. Nugent, C. Rendleman, R. Thomas, and M. Zingale, "MAESTRO, CASTRO and SEDONA -- Petascale Codes for Astrophysical Applications," Proceedings of SciDAC 2010, Chattanooga, TN, July 2010. [pdf]

H. Ma, M. Zingale, S. E. Woosley, A. J. Aspden, J. B. Bell, A. S. Almgren, A. Nonaka, and S. Dong, "Type Ia Supernovae: Advances in Large Scale Simulation," Proceedings of SciDAC 2010, Chattanooga, TN, July 2010. [pdf]

A. Nonaka, A. S. Almgren, J. B. Bell, M. J. Lijewski, C. M. Malone, and M. Zingale, "MAESTRO: An Adaptive Low Mach Number Hydrodynamics Algorithm for Stellar Flows", Astrophysical Journal Supplement Series, 188, 358, 2010. [pdf]

A. S. Almgren, V. E. Beckner, J. B. Bell, M. S. Day, L. H. Howell, C. C. Joggerst, M. J. Lijewski, A. Nonaka, M. Singer, and M. Zingale, "CASTRO: A New Compressible Astrophysical Solver. I. Hydrodynamics and Self-Gravity", Astrophysical Journal, 715, 1221, 2010. [pdf]

M. Zingale, A. S. Almgren, J. B. Bell, A. Nonaka, and S. E. Woosley, "Low Mach Number Modeling of Type Ia Supernovae. IV. White Dwarf Convection", Astrophysical Journal, 704, 196, 2009. [pdf]

S.E. Woosley, A. S. Almgren, A.J. Aspden, J. B. Bell, D. Kasen, A.R. Kerstein, H. Ma, A. Nonaka, and M. Zingale, "Type Ia Supernovae: Advances in Large Scale Simulation ", SciDAC 2009, J. of Physics: Conference Series, 180, San Diego, CA, July 2009. [pdf]

A. Nonaka, D. Trebotich, G. H. Miller, D. T. Graves, and P. Colella, "A Higher-Order Upwind Method for Viscoelastic Flow", Comm. App. Math. and Comp. Sci., vol. 4, no. 1, 2009. [pdf]

A. S. Almgren, J. B. Bell, A. Nonaka, and M. Zingale, "A New Low Mach Number Approach in Astrophysics", Computing in Science and Engineering, vol. 11, no. 2, pp. 24-33, March/April 2009. [link]

M. Zingale, A. S. Almgren, J. B. Bell, C. M. Malone, and A. Nonaka, "Astrophysical Applications of the MAESTRO Code", SciDAC 2008, J. of Physics: Conference Series, 125, Seattle, WA, July 2008. [pdf]

A. S. Almgren, J. B. Bell, A. Nonaka, and M. Zingale, "Low Mach Number Modeling of Type Ia Supernovae. III. Reactions", Astrophysical Journal, 684, 449, 2008. [pdf]

A. Nonaka, "A Higher-Order Upwind Method for Viscoelastic Flow", PhD Thesis, UC Davis, 2007. [pdf]

A. Nonaka, S. Gulati, D. Trebotich, G. H. Miller, S. J. Muller, and D. Liepmann, "A Computational Model with Experimental Validation for DNA Flow in Microchannels", Technical Proceedings of the 2005 NSTI Nanotechnology Conference and Trade Show, 3, 712-715, Anaheim, CA, May 2005. [pdf]

D. Trebotich, P. Colella, G. H. Miller, A. Nonaka, T. Marshall, S. Gulati, and D. Liepmann, "A Numerical Algorithm for Complex Biological Flow in Irregular Microdevice Geometries", Technical Proceedings of the 2004 NSTI Nanotechnology Conference and Trade Show, 2, 470-473, Bostom, MA, March 2004. [pdf]